As a whole class reading assignment, or as part of a free choice reading program
This might seem counter-intuitive, but when you read a graphic story with a class, don't read the text. There is no quicker way to destroy the pleasure of the graphic novel than simply reading the text. Instead, approach it like kindergarten reading ('reading' a picture book to pre-literate children): spend your time talking about pictures and avoid reading the text altogether!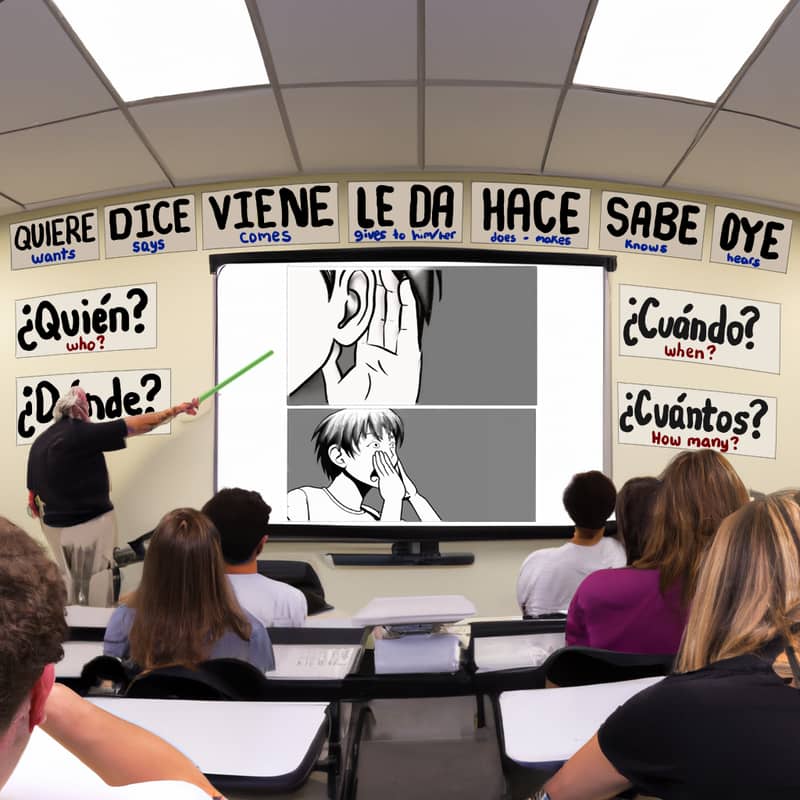 My underlying purpose when reading any whole class text in class is often to intrigue my students to read more on their own. Therefore, I recommend that you studiously do not attempt to read the whole story. With a graphic novel I choose one or two pages with compelling images. In fact, photocopy the pages, white out the text, and then project the images so that they are six feet high on a white screen. Hold up the book. Open the book to show students where the graphic story comes from, but then turn to describe what is happening on the screen. Ask questions. You don't have to actually stick to the real story. Make "I wonder if…" statements exploring what could possibly be happening in the images. Follow up with either-or questions that do require comprehension, but little oral production: "Do you think he hears an animal, or does he hear a person?"
A ten-minute intriguing experience that generates interest, so students read the book on their own, is more powerful than a plodding 30-minute lesson plan that kills the joy of discovery. If you feel like your students need to be held accountable, end the picture talk session with a four question exit quiz, or spend five minutes writing a community Write & Discuss text that they copy into their notebooks.
I have seen lesson plans online about teaching graphic novels that involve creating manipulatives for students to demonstrate comprehension. For me, these never pass the 'real life teacher' test. I look for approaches that do not require extensive prep outside of class time. My patience for cutting out manipulatives extends to exactly zero, nor do I want to burn precious class time guiding students to cut out their own manipulatives. The CI Master Class focuses on effective "low to no prep" approaches because we are real teachers too.
---
---
The 3rd book of comics has been published!!
Pre-order copies in FRENCH, GERMAN & SPANISH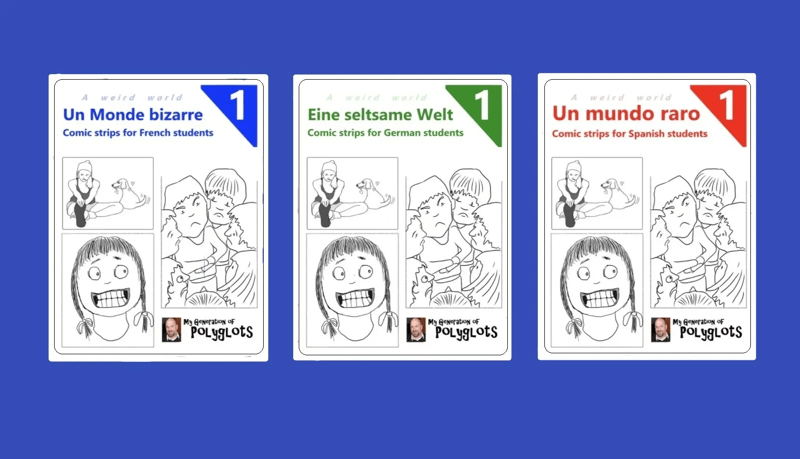 ---
---
Graphic novels as part of a free choice reading program
Many of my students need visual reading experiences to help them discover a love of reading. These graphic stories were originally written to create a bridge for students who don't naturally visualize the story when they read. They are great books for students to devour while you are busy trying to connect them with their "homerun novel" that turns them on to a lifetime of reading. I call this a bridge because eventually they choose language learning novels published without pictures and read them with pleasure, but first some students simply need less challenging reading that will hold their attention.
In my classes we have some stories that are read and discussed by the whole class, but we always start each class session with 10 minutes of free reading in which students choose their own book. Reading is, in the long term, the quickest way to acquire vocabulary and the surest path into intermediate and advanced fluency.
The purpose of the free choice reading sessions is not simply to provide more texts for students, but to provide reading experiences in which students (re)discover a love of reading. If we truly want our students to live bilingual lives, we must plan beyond our year or two together so that students retain the habits and skills of language acquisition after they have graduated. Having reached intermediate fluency in class, pleasure reading is a path to fluency that students can follow at their own pace. If you have a pleasure reading program, be sure to tell this to your students! They may roll their eyes now, but they'll remember your words when in college.
The long-term objective of the reading program is to create pleasurable reading experiences in the target language. Difficult reading that requires constant comprehension checks is not optimal for pleasure reading– save those books for whole class instruction. The visual format of the comics communicates a lot of information to the reader—these are accessible & pleasurable to many levels of reader. Of course, we want students to eventually be able to read every bit of the text. However, the irony is that forcing close reading of a text doesn't develop the motivation to read more.
Enjoying the reading experience develops the motivation to read more.
We need our students to love reading because attaining advanced fluency is a goal that demands LOTS OF READING.
---
---
DO's & DON'Ts of reading graphic novels in class
Don't read dialogue—DO focus on talking about the pictures
Don't plan to finish the comic—DO focus on one or two pages
Don't force reading comprehension assessments into every reading experience
DO allow students to occasionally chill & enjoy a text with no reading accountability
---