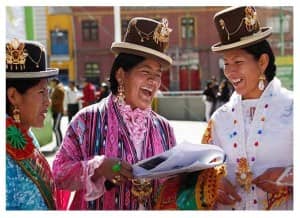 It happens without warning, catching me by surprise. We might be watching a video in which a Bolivian chola comes on screen, or perhaps a very dark-skinned person, an overweight woman wearing a hijab or a homosexual couple dancing in the background of a music video. I hear a snarky murmur, mean-spirited chuckling… nothing that I can precisely distinguish but I know what this is about.
You cannot let this fester. This has to be addressed immediately and unequivocally, but winning hearts and minds can be trickier than just shutting down the rude comments. I have developed the perfect tactic to address this situation. This is not an overall strategy (every teacher should carefully plan how to honor diversity in their classrooms), but rather a tactic to remind students of their better selves. I like this tactic because it rapidly turns the tables and invites them to join us in the 21st century.
When I sense such an undercurrent, I stop whatever we are doing and quickly say, "I thought yours is the cool generation, the generation that refuses to carry hate in their hearts, to hate people for what they wear, how they were born, for being different". I pause and frequently somebody in class will say, "we are". They really are the cool generation. "I admire that about your generation… all of that bullshit is over with your decision to end it here and now". Sometimes I make eye contact as I say, "right?", but often I am addressing the whole class when I say that. More students will respond affirmatively. "We´re together on this one, right?", and the whole class responds affirmatively. Most often I can find a reason to fist bump the offending students within ten or so minutes, and they are fully back into our class community.
I do not know why this works so well, but every time I refer to them as the cool generation they immediately take it on as their identity. I am hoping that in the future when my students hear hate speech, when they see white supremacists in public spaces, when they observe powerful figures making harsh generalizations about minority groups, they will think to themselves, "that is not a cool generation, those are not my values".