Cultural Fluency Through Oral Story Telling
When I transitioned to a student-centered CI approach, I temporarily lost a lot of the cultural foundation that had been a hallmark of my classes. In the first half of my career I collected many great short stories that I loved to teach. I had portraits of inspiring Latin Americans lining my walls that I would refer to as our family.
Latin America was vividly present, even though I wasted far too much time teaching grammar and vocabulary that kids quickly forgot from one day to the next. Today's newsletter is about how I began to bring that culture back into my CI classroom.
In the middle of the 2016 school year my Heritage Learners class was reading the classic short story Un señor muy viejo con unas alas enormes by García Márquez. I had been feeling guilty that I had not planned anything lately for the higher ability learners in class (about 30% of the students in a very differentiated class) so I pulled out some challenging but truly rewarding reading. Higher ability kids in the past had really warmed to this tale, so I thought that I would buckle up and fly through this beautiful story the best I could. Looking through my old lesson plans I found a myriad of pre and post-reading activities that we could work through as a class so that, hopefully, every student would find some success. You can find a lot of those materials here, in a post that I wrote in 2015.
The funny thing is… wow, those first two days felt horrible. I could feel the joy withering in my artless hands as together we read the first, basic embedded reading. My intention was to get straight to the good part but instead we were slowly trudging through a humorless story skeleton that focused merely on plot.
At night I had been reading about the story listening technique developed by Beniko Mason, who questions whether "reading activities" are more efficient or more effective at developing language than simply providing more interesting/comprehensible reading and listening. That is when it occurred to me that my reading activities, meant to scaffold the reading of a specific version of the story, are putting the brakes on enjoying the soul of the text. My ah-ha moment: the oral tradition is strong even in illiterate communities. Why not present an oral version of the text first so that the storyteller can closely tune the telling of the tale to the audience?
The hardcore CI teacher in me asks myself: Why was I seeking to push incomprehensible texts down the throats of my students? Because the reading is beautiful to my mind, because it occupies a central place in the target language culture, because I want my students to gasp at the mind-blowing creativity of a writer like GGM. All of these objectives can be reached through an oral retelling of the tale, so I dropped all of my canned reading activities mid-week and decided to meet my students where they were through story listening.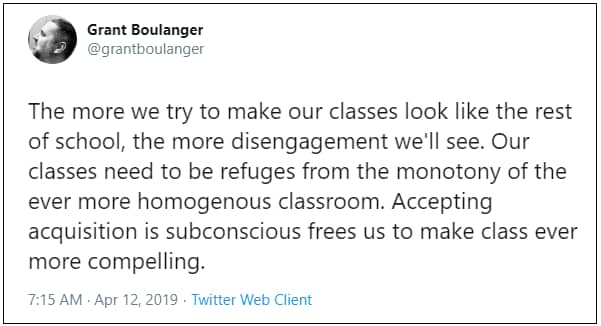 Once I looked at the story with new eyes… not to prepare students to read the original text but rather to enjoy the most marvelous moments of the tale, it changed everything. I realized that I can tell this tale to my non-heritage learners. And I did, in one period. As I was reviewing the video of my teaching I heard for the first time the voice of one of my students who sits next to the camera. He was muttering, midway through the story listening session, "This is getting serious… I am so invested in this story!"
Although it sounds planted, it was not. There were 37 juniors crammed into that room but, by their silent attention, one could be mistaken to believe it was just me and that one kid. Here is a link to that video. The first few minutes are boring as I set up the class but the story picks up after a few minutes.
I did stray in one important way from the ethos of story listening: I had my students illustrate the story as I told it, and when I was finished I had them go back and write in text to their cartoon versions. I just could not trust that they would listen to me for 36 minutes straight without daydreaming or outright snoozing. I am honestly not sure if this lack of faith reflects my own uncertainty in my skills as a storyteller, recognition that school has taught them to play the accountability game, or simply if the activity, the illustrating, helps them maintain the thread of a complicated story in their own minds. Maybe a bit of all three.
Here are some of the cartoon panels that they passed in (all non-heritage speakers):
---