Novel Study or Anchor Text?
There is a place for whole class reading in the World Language classroom. We guide students to learn how to read through whole class texts. A daily class-created Write & Discuss text is a powerful and efficient way to teach students how to read.
Building in time for pleasure reading at the beginning of the class period and ending the period with an intensive whole class text like W&D is a good balance between cultivating love of reading and building necessary skills.
Is there time, then, for reading a whole class novel?
There is a benefit to having an extended whole class reading experience; ideally the class develops a common set of references that you can use throughout the year. Later, as students read their independent pleasure reading texts, the teacher asks leading questions referencing the common reading experience that guides students to read deeper. Use the whole class novel as an anchor text to build reading skills.
Whole class novels are rarely used as anchor texts in World Language classrooms. Instead, teachers build novel study units and guide students through the novel chapter by chapter. Students may develop a deep knowledge about the subject of a novel, but they focus on memorizing trivia rather than developing transferable reading skills that they could use in their independent reading. What a wasted opportunity!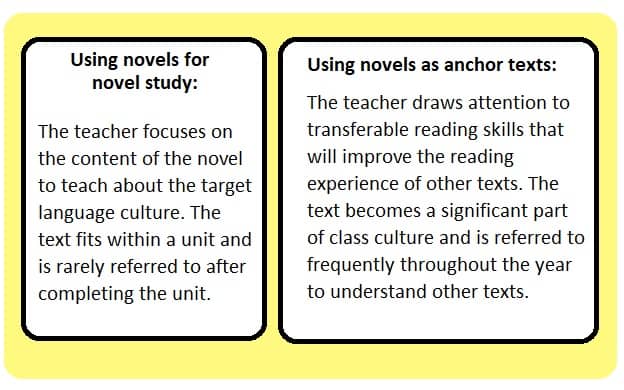 Don't lose sight of the real goal when we assign a class novel. We want to enchant and intrigue our students so that they grow to love reading, but too often we end up monitoring and penalizing in a witch hunt to verify that students actually read. The primary goal of our reading program is to develop love of reading, which is best accomplished through a pleasure reading approach. Students who choose their own reading based on their own pleasure grow to love reading.
I am currently writing a teachers guide for my novel Meche y las ballenas. I am creating this guide to lead teachers towards a more powerful way of using our class libraries. Included is a series of "Good reading conversation prompts" to be used throughout the year, well after having read the class novel. By drawing students' attention to techniques used in the anchor text, teachers train their students to spot these moves in their own independent reading. Students develop the skills to become active, independent readers rather than dependent upon teacher-created novel study units.
If you are interested in this approach that favors student choice and building transferable reading skills over teaching specific novels, consider taking a look at Kate Robert's book, A Novel Approach: Whole-Class Novels, Student Centered Teaching and Choice. Kate describes her approach as an English teacher; there is not yet a good approach designed specifically for World Language teachers. Once I finish this teachers guide you'll be able to see my best adaptation. I am also using Jennifer Serravallo's The Reading Strategies Book to identify specific reading strategies and determine which can be fruitfully applied to our context.
---